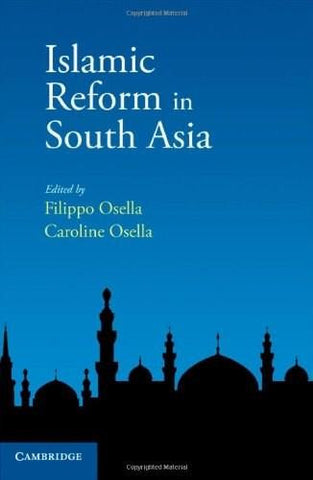 Islamic Reform in South Asia
By Osella, Filippo and Osella, Caroline (editors).
SKU# 15491
Pp. 535; with 2 black-and-white illustrations. Publisher's original color-pictorial laminated hardcover, lg 8vo. The chapters in this volume build upon ethnographic analysis complementary to the historiography of South Asian Islam, which has explored the emergence of reformism in the context of specific political and religious circumstances of nineteenth-century British India. Taking up diverse popular and scholarly debates as well as everyday religious practices, this volume also breaks away from the dominant trend of mainstream ethnographic work, which celebrates sufi-inspired forms of Islam as tolerant, plural, authentic and so on, pitted against a reformist Islam. Urging a more nuanced examination of all forms of reformism and their reception in practice, the contributions here powerfully demonstrate the historical and geographical specificities of reform projects. In doing so, they challenge prevailing perspectives in which substantially different traditions of reform are lumped together into one reified category (often carelessly shorthanded as wahhabism) and branded as extremist - if not altogether demonised as terrorist (from the rear cover).
| | |
| --- | --- |
| Publisher | Cambridge University Press |
| Publisher Place | Cambridge |
| Date Published | 2013 |
| Date Published Estimated | No |
| Edition | First |
| Number of Volumes | 1 |
| Reprint | No |
| Condition | Fine |
| Condition Description | A fine (new) copy still shrink-wrapped from the publisher. |
| ISBN | 9781107031753 |
| Limited Edition | |